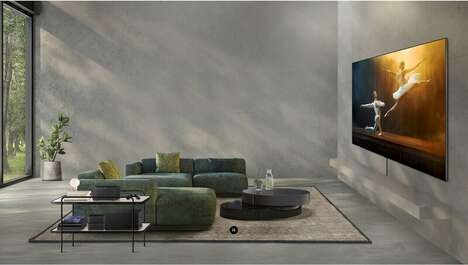 LG Signature, the cutting-edge luxury arm of the popular consumer electronics company, showcased the 'OLED M,' a true wireless OLED television with impressive specifications. The TV itself features a 4k resolution panel with a refresh rate of 120 Hz. The panel requires only a power input, which can be wired through a wall, allowing the OLED M to float on a wall, seemingly not connected to anything.
The TV receives its signal from the wireless AV box. This box communicates with the TV at high bandwidth, resulting in very low latency, though LG states that it has not yet fully measured the latency and cannot provide definitive details. This technology, though, allows users to set up a TV box, multiple game consoles, and other devices that display video, far away from the TV, significantly improving the aesthetics of the TV room.
It is important to note, though, that this is an LG Signature product, meaning it is intended as a luxury display piece more than technology for the regular consumer.
Image Credit: LG Signature
Check Wireless High-Definition TVs : oled m Price On Amazon
Source link: http://www.trendhunter.com/trends/oled-m