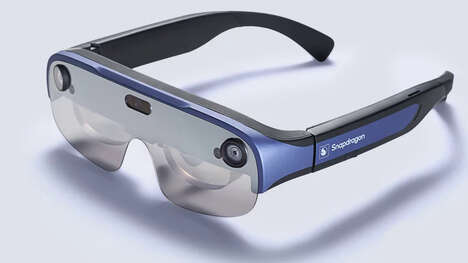 American multinational tech company Qualcomm has unveiled the latest version of the 'XR Platform Smart Viewer,' the brand's signature augmented reality smart glasses. The upgraded version boasts an improved design and better functionality.
The original XR Platform Smart Viewer featured a chunky frame and required a tethered cable connection. Now, Qualcomm's second-generation smart glasses are completely wireless and come equipped with the company's Snapdragon XR2 Platform. Not only this, but the new glasses are 40% smaller than the previous model, and weigh in at just 115 grams.
Other notable features of the XR2 Platform Smart Viewer include twin monochrome cameras and a dual micro-OLED display, which delivers a 1920 x 1080 resolution and 90Hz refresh rate.
Image Credit: Qualcomm
Check Wireless AR Glasses : XR Platform Smart Viewer Price On Amazon
Source link: http://www.trendhunter.com/trends/xr-platform-smart-viewer