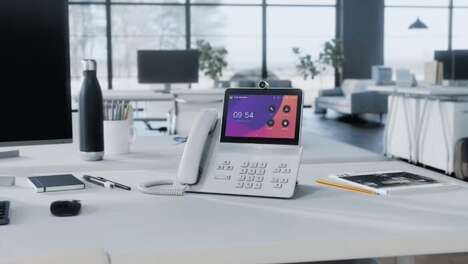 Cisco released a product named the 'Video Phone 8875' that it hopes will revolutionize an important aspect of in-office work environments. The Video Phone 8875 is a desktop corded phone with a built-in 7-inch touch screen on the phone's dock.
The phone allows for shared desk spaces to be more optimized for each individual user. As many businesses shift toward hybrid and work-from-home employee models, many in-office desk spaces are shared with different workers on different days of the week. The Video Phone 8875 is capable of scanning a 'Webex' QR code from a smartphone to immediately adopt the employee's Webex information. The phone can then be logged out of at the end of the working day, leaving the desk open for the next worker to log in and utilize the video phone.
The Cisco Video Phone 8875 has an MSRP of $725 USD, though it may provide discounts to businesses interesting in purchasing bulk numbers of the device.
Image Credit: Cisco
Check Video-Enabled Desktop Phones : video phone 8875 Price On Amazon
Source link: http://www.trendhunter.com/trends/video-phone-8875