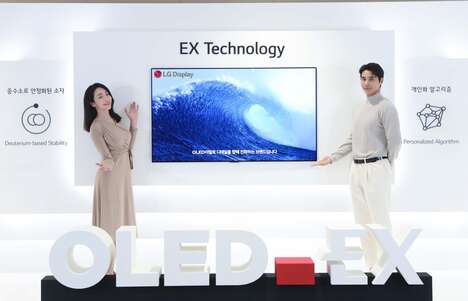 LG Display OLED EX technology has been announced by the brand as an update to existing OLED technologies that is focused on providing users with a truly immersive visual experience that maintains enhanced clarity and more.
The display technology sees the hydrogen used in the LEDs replaced with deuterium, while a machine learning algorithm helps to precisely control how the energy is being utilized to more accurately represent video details. This results in 30% brighter colors, more realistic detail, darker blacks and more.
The LG Display OLED EX technology is being rolled out widely by the brand at its production plants in both Paju, South Korea and Guangzhou, China starting in the second quarter of 2022. The technology will be used across the brand's full product range to maximize consumer access to the advanced features.
Check Ultra-Bright OLED Display Technologies : LG Display OLED EX Price On Amazon
Source link: http://www.trendhunter.com/trends/lg-display-oled-ex