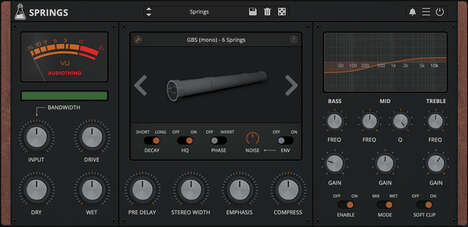 AudioThing's Springs is a digital spring reverb plug-in with a vintage Baxandall EQ emulation built in. Springs incorporates 11 types of reverb emulations achieved by blending convolution and modelling methods to create one of the most complete specialty reverb devices around.
AudioThing has included an editor menu to manipulate the reverb impulse response, paired with a bandwidth control, to manage and manipulate the spring emulation's imparted characteristics. Springs boasts a broad selection of distinctive sound models, which include legendary vintage reverb emulations from the following hardware: RE-201, RV-1, SR-202W, HR-12, HVS-1, A-199, REV-25, RA-844, Audition, Echo Box, and GBS.
Accompanied by a Baxandell EQ emulation for dynamic control over the output signal, AudioThing amended the two-band classic unit to also include a third band for additional mid-frequency shaping and control. The original Baxandall EQ is an nontraditional shelving equalizer used mainly for attenuating the low and high frequencies in guitar amps. By offering a wide frequency amplitude (Q) curve for a gentle frequency roll-off, the Baxandall EQ results in more natural sound with minimal distortion—perfect for smooth attenuation of the spring reverbs.
Image Credit: AudioThing Ltd.
Check Spring Reverb Emulations : Springs Price On Amazon
Source link: http://www.trendhunter.com/trends/springs