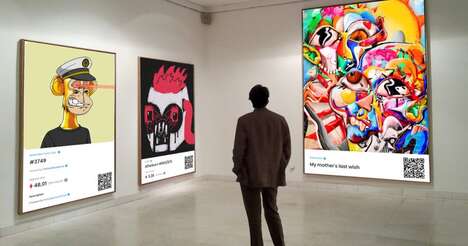 CrownTV, a company specializing in digital signage, is entering the NFT market by launching a new app that allows retailers and businesses to display NFT artworks on CrownTV-owned digital screens.
The app will be directly connected to CrownTV's digital signage solutions but will focus solely on NFT integrations. According to the company, the new app aims to allow retailers and business owners to bring their virtual assets (NFTs) into the physical realm, making them more tangible and, ideally, sellable.
Users will be able to display an NFT artwork alongside its price information, description, and provenance on a physical, in-store screen. In addition, they will be given the option to include a scannable QR code that will allow shoppers to purchase the NFT on their phones while in the store.
Image Credit: Crown TV
Check Physical NFT Retail Displays : CrownTV Price On Amazon
Source link: http://www.trendhunter.com/trends/crowntv