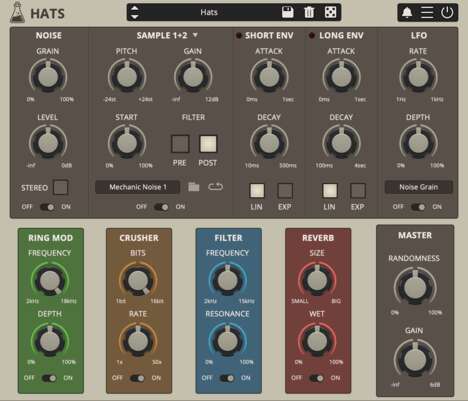 AudioThing Hats is a dedicated hi hat and cymbal virtual drum synthesizer that blends synthesized noises and recorded samples together to generate unique sounds with ease.
Using noise and sample sources, the Hats plug-in synthesizes distinctive metallic sounds great for percussion, or for any other creative intent. The noise section employs six square oscillators each with varying timbres, resulting in a controllable metallic characteristic unlike typical generic noise generators. The sample section pairs perfectly with the noise section to deliver classic sounds, using samples derived from rare analog drum machines that have been recorded and processed through traditional analog preamps and aural exciter equipment.
Hats also allows users extended functionality for processing sounds further using modular effects, made up of: ring modulation, bit reduction, filter, and reverb. Each effect can be rearranged into a variety of processing chains for all-in-one sound design and creativity.
Image Credit: AudioThing Ltd.
Check Percussive Digital Drum Machines : Audiothing hats Price On Amazon
Source link: http://www.trendhunter.com/trends/Audiothing-hats