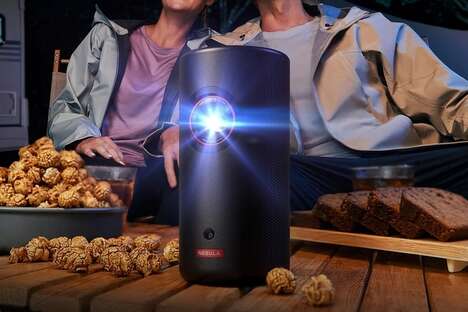 The NEBULA Anker Capsule 3 Laser projector is a compact piece of multimedia equipment for consumers to use when looking to enjoy their favorite content from virtually anywhere.
The projector is capable of projecting images up to 120-inches in size at 1080p resolution and does so with up to 300-lumens of brightness. The compact, tubular construction of the projector means it can be easily brought anywhere. The unit runs Android 11 and is equipped with a 52Wh battery that's rated to provide up to 2.5-hours of use per charge.
The NEBULA Anker Capsule 3 Laser projector has an 8W Dolby Digital speaker, and can stream audio through a wireless connection thanks to Bluetooth or via a 3.5mm audio cable. The unit also features built-in WiFi for connecting to home networks and more.
Check NEBULA Anker Capsule 3 Laser Price On Amazon
Source link: http://www.trendhunter.com/trends/nebula-anker-capsule-3-laser