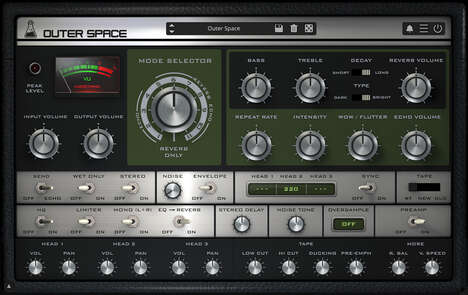 The Outer Space tape echo, a plug-in developed by AudioThing, is a digital recreation of the famous analog Roland Space Echo RE-201 device that was first released back in 1974.
Outer Space recreates the beloved tape echo and spring reverb, enclosing the features within a familiar analog user interface, taking after the original hardware. The Mode Selector features the original 12 combinations of echo and reverb algorithms, along with three modeled tape types which include: the original RT-1L, a modern replacement, and worn out tape.
Building on the original RE-201, Outer Space now offers features not found in the original, which include: individual volume/pan for each head, low/high cut filters for feedback section, ducking control, pre-emphasis filter, rate ballistic control, variable speed, preamp switch, and more. New controls have replaced the original patch points without cluttering the interface of the device, with features expanding onto a collapsible drop-down panel.
Outer Space has the ability for up to 16x oversampling, resizable window, and includes a preset system with a randomizer for increased creativity.
Image Credit: AudioThing Ltd.
Check Modern Tape Echo Plug-Ins : Outer Space Price On Amazon
Source link: http://www.trendhunter.com/trends/outer-space1