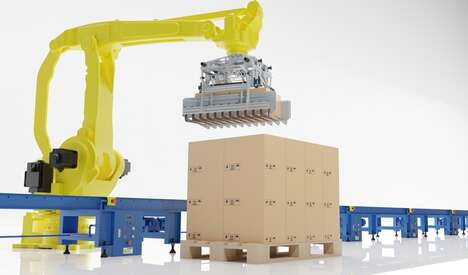 Robotics technology company Mujin has announced the launch of a mixed-case robotic palletizing solution that features a smart buffer and re-sequencing capabilities. The new product was Mujin's headlining application at the MODEX conference, where the company showcased several innovative intelligent robotics solutions.
Up until now mixed-case palletizing has been nearly impossible to automate, making it a labor-intensive process that requires material handlers to manually stack factory pallets. Now, with Mujin's new palletizers, factories will be able to buffer and re-sequence cases without the need for material handling equipment or laborers.
"With Mujin solutions, all warehouses need to do is send the boxes directly to the robots, and they'll re-sequence them before placing them on the pallet. That's it. The process is significantly easier, more reliable and much less costly," said Ross Diankov, co-founder of Mujin.
Image Credit: Shutterstock
Check Mixed-Case Robotic Palletizers : Mujin Price On Amazon
Source link: http://www.trendhunter.com/trends/mujin