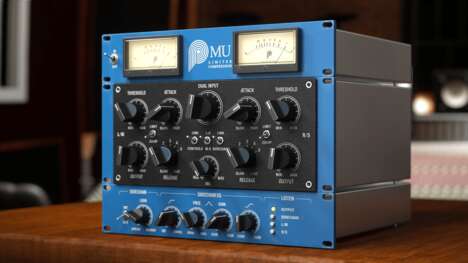 Pulsar Digital, a French boutique audio software company launched in 2018, released the Pulsar Mu tube compressor/limiter plug-in. The Pulsar Mu emulates Manley's variable-bias tube compressor analog model, which offers an affordable and true-to-life digital alternative that's perfect for 'in-the-box' workflows.
Except for a more modern and slim rectangular design that places the meters at the top of the GUI, Pulsar remained true to the original rack hardware with its vintage parameter knobs, meters and faceplate aesthetics.
Technically speaking, the Pulsar Mu is intended for "gluing" audio together, which makes it especially useful for mixing and mastering applications. The software integrates exclusive 'Topology Preservation Technology' to faithfully model the inner-workings of variable compressor hardware, which allows the Pulsar Mu plug-in to capture—and also be heavily driven like the original tube hardware's function. The Pulsar Mu's ability to impart the desired analog characteristics without any physical hardware makes it a convenient alternative for modern production setups.
Pulsar Mu has made significant improvements on the original hardware to now include: both Left/Right and Mid/Side mode operations, both the SIFAM classic metering and modern visualization mode, improved equalization section, and look-ahead/look-behind sidechain settings, in addition to an increased signal-to-noise ratio.
Image Credit: Pulsar Digital
Check Limiter Compressor Emulations : Mu Price On Amazon
Source link: http://www.trendhunter.com/trends/mu