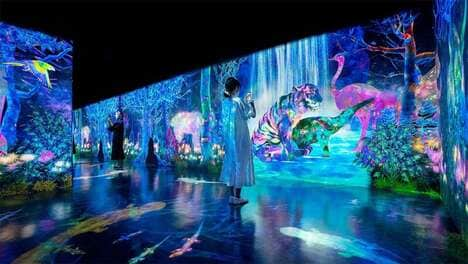 Japenese design studio teamLab has announced the launch of its newest immersive exhibition in Tokyo's Harajuku neighborhood called 'Catching and Collecting in the Sacred Forest.' The new experience comes on the heels of the studios' previously released exhibitions, including the renowned 'Reconnect: Art With Rinkan Sauna 'in Roppongi and 'FUTURE WORLD,' which debuted at Singapore's ArtScience Museum.
'Catching and Collecting in the Sacred Forest' offers visitors a highly immersive environment that transports them into a "digital forest" that features striking and futuristic artworks by Lisa Frank. Developed in partnership with Samsung, the new experience invites guests to use their Galaxy smartphone to "catch" endangered animals that are projected into the digital space via a unique AR-enabled activation. Once the animals are caught, guests are provided information about them and given the opportunity to release them elsewhere in the digital environment.
Image Credit: teamLab
Check Immersive Digital Forests : teamlab 1 Price On Amazon
Source link: http://www.trendhunter.com/trends/teamlab-1
Best Seller
Sennheiser XSW-D PORTABLE INTERVIEW SET
Price: $249.95
Sennheiser XSW-D PORTABLE INTERVIEW SET – Sennheiser aims to form the way forward for audio by creating distinctive sound experiences for our prospects. As a third-generation family-run business, we're equally pleased with our history and previous accomplishments on the planet of audio as of our ambition to shape its future.