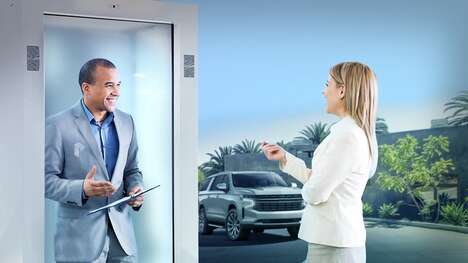 'PORTL,' the futuristic technology innovation company, has unveiled the 'PORTL Epic,' a real-time holographic communications device. The PORTL Epic is a large, human-sized display box that can receive holographic recordings from a sender to create a full, life-size 3D model of the sender.
With the PORTL Epic, users can communicate with one another seamlessly in real-time around the globe. The PORTL Epic is another level above video calling as people are able not only to hear the person's voice and see their face, but also read their body language. This is the closest possible way to interact with a person "in real life" without actually being face-to-face.
On top of streaming video, the PORTL Epic has a high-quality speaker and a 4K-resolution touch screen to create an authentic experience. The brand recommends using its 'PORTL Studio Kit' to record oneself as it has a 4K camera, white backdrop, and all of the required lighting to create a perfect image on a PORTL Epic device.
Image Credit: PORTL
Check Full-Body Hologram Displays : portl epic Price On Amazon
Source link: http://www.trendhunter.com/trends/portl-epic