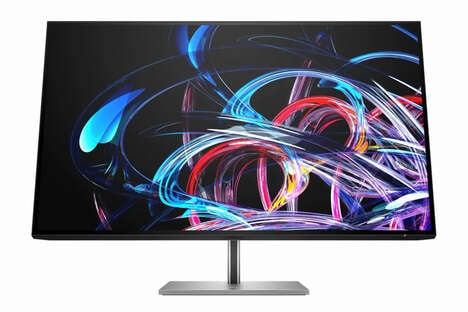 The HP Z32K G3 computer monitor is a pro-grade peripheral for creative professionals and designers alike to incorporate into their existing workstation setup.
The unit comes as the brand's first monitor with an IPS Black panel display to double the contrast ratio and offer much darker blacks. The unit features a 4K resolution with a 60Hz refresh rate and delivers up to 100W of charging power via a Thunderbolt 4 connection. This connection also allows the unit to function as a USB hub thanks to four USB-A ports and even an Ethernet port.
The HP Z32K G3 computer monitor is expected to be released in November 2022 and also features an articulating form that can be customized to the needs of the user.
Image Credit: HP
Check Creator-Grade Computer Monitors : HP Z32K G3 Price On Amazon
Source link: http://www.trendhunter.com/trends/hp-z32k-g3