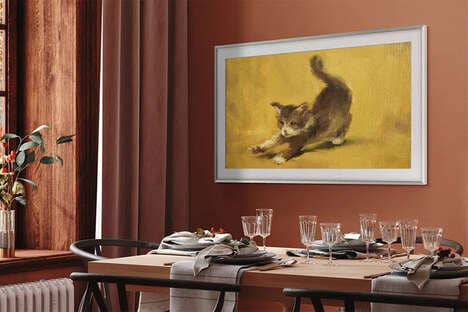 South Korean electronics giant Samsung has launched a 43-inch version of The Frame TV, which has already gone on sale on Woot at a discounted price. Much like the original models, the new version of the TV features a QLED panel that is meant to mimic the appearance and feel of a piece of framed art.
Of course, the appeal of The Frame TV is that it allows homeowners to disguise an arguably unsightly appliance (a TV) by turning it into a tasteful art piece. In addition, like the original model, the 43-inch Fram TV is just one inch thick, allowing it to blend into users' homes by truly mimicking a regular piece of hanging decor.
The most notable upgrade with the new model is the addition of Samsung's 'Matte Display' feature, which changes how the screen absorbers and reacts to light. With the new tech, the Frame TV more accurately mirrors the surface of an actual painting.
Image Credit: Samsung
Check Art Frame TVs : Frame TV 1 Price On Amazon
Source link: http://www.trendhunter.com/trends/frame-tv-1